Good morning,
I hope you had a Happy New Year and that your indoor season is proceeding nicely! We've had a blazing start to January. This month, we've added a couple of features that will help you create meets faster and make them more personalized to your client's team or facility.
As always, if you have any questions or feedback, please contact me at ben@athletic.net.
Good luck with your meets this weekend!
- Ben
Personalize your meet with a custom skin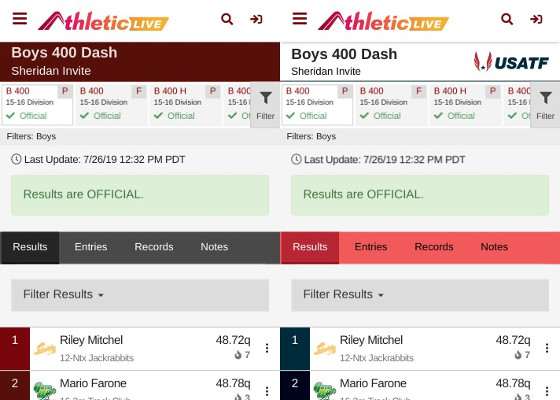 Customize your AthleticLIVE meet with a meet skin by showing your client's logo and team colors on every page.
The example image above shows one AthleticLIVE meet without a skin and one with a USATF skin. Note two things:
The logo in the top right corner.
The primary color is used in place backgrounds and the secondary color is used as tab backgrounds.
Your first meet skin is free. Subsequent skins are $100. Once you create a skin, you can use it on any meet.
NOTE: If you have an Enterprise site, the meet skin logo and colors will replace your company's logo and colors on all pages. Your logo will still be visible in the meet footer.
Records and Time Standards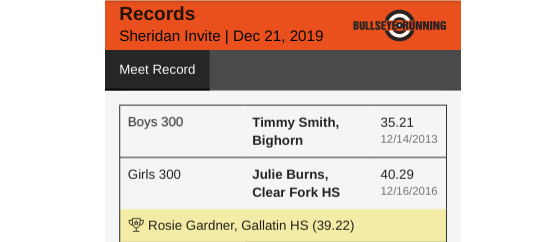 All records and time standards are now easily viewable on every meet. If any records are broken or time standards are met, they will appear underneath the appropriate line item.
Record breakers are based on your meet management system. If the system says a record was broken, it'll appear on the records page.
Automated FinishLynx Image Export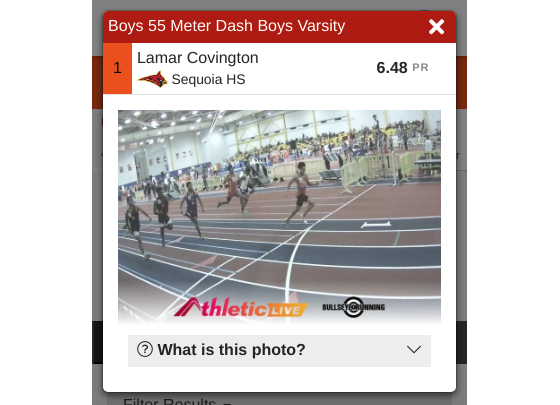 350 meets have exported almost 100,000 finish line images since we launched the ability to automatically export images from FinishLynx in early 2019.
Athletes and parents love the ability to see a an athlete's picture at the moment they cross the line. Meet directors like offering this as a special extra at their meets and the transparency it brings to the results compilation process.
Consider trying image export at your meet today!
Clone a Meet

Instead of creating a meet from scratch, use an existing meet as a template. Clone it, and all of your settings will be copied into a new create meet form.
Instructions:
Go to the admin meet detail page of previous AthleticLIVE Meets.
Click the "Clone Meet" button.
The create meet form will be pre-populated with almost all settings except the date.
Save the meet.